GUEST POST by SL

I've looked at John McAfee from both sides now…

From up and down and still somehow… I really don't know John McAfee at all, or do I?

I, along with many of you, have been riding this crazy train of the John McAfee Saga since it began on that fateful day in November. For me it began like any other day, at my computer. While scrolling through the top headlines on

Huffington Post

,

there it was, the wanted poster. As I clicked the link I could almost hear Ozzy yelling…

"ALL ABOOOOOAAAARRD AHAHAHAHAHAHA..."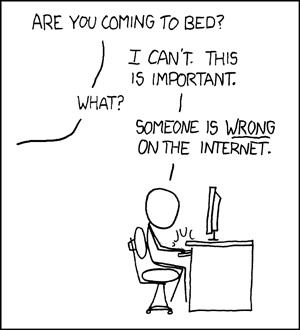 As the train pulled out of the station, John McAfee became my new project. The story had it all, sex, drugs, guns, a murder mystery, politics ~ even forensics, (queue theme to CSI) all against the backdrop of one of the most beautiful places on Earth. At the center of it all was an eccentric millionaire who I immediately had a crush on. I eagerly lapped up any and all information I could find about John McAfee. Of course I followed his blog. While he was "on the lam", I gave a daily McAfee update to my colleagues every morning. In the evenings when I wasn't reading about John McAfee, fact checking the latest story about McAfee or researching his past, I was posting comments because "
Someone is wrong on the internet
".
John posted often on his blog. We read about his current situation, how it started and all the players involved. This was one side of John McAfee, the one we saw emerging and evolving every day. I felt like I knew him, like I had known him for a long time. I began referring to him as just John to my friends and colleagues. Before long I felt like I, along with all of you, was part of the adventure. The other side of John was what the media reported about him. There was the eBook by Joshua Davis, and the almost daily posts on
Gizmodo.
The media latched on to the idea that John was some kind of Bath Salts fiend who had become detached from reality. The original report that he was wanted for murder, instead of just "a person of interest", was erroneous and the more reputable news organizations walked back on it. It was too late though since the perception of McAfee the murderer has persisted even today. Then there were the other opinions about John that were posted on his blog and in the comment sections on every article about him. Much of this was similar to what people have called "the fog of war". The Vice guys were with him when he crossed the border into Guatemala. They promised us a great story with video. What we got instead was "The John McAfee saga is a riddle wrapped in a mystery inside an enigma".
I was very disappointed in the media during this time. How could they get even the very basic and verifiable facts so wrong? What astounded me even more was that people I knew and respected just believed everything the media fed them. I found myself fact checking people even in daily conversation. At parties, I was the one over there in the corner saying things like, "John McAfee favors a good old American revolver" and "Greg Faull was shot with a 9mm" or, "Belize has the sixth highest murder rate per capita in the world ~ did you know the legal age of consent in Belize is 16?"
After John posted about how he hid cameras and microphones on his properties and had set up his own "McAfee's Angels" spy network, some people referred to him as a real life Tony Stark. He fits in the suit quite nicely don't you think?
note: the background has been altered to protect JM's location.
John McAfee has been under the media microscope for 9 months. There's been quite a lot of Internet activity about him, pod casts, blogs, videos, parodies. He even made his own parody which set off more comments and opinions. He continues to be a "person of interest" for the media. He recently appeared on Engadget, a tech eZine, and was interviewed on Fox about the Edward Snowden story. He's busy working on the many projects about his life. Life goes on but did we ever answer the question posed by John himself in the domain name for his blog, Who is McAfee?
I've seen both sides of John. I have evaluated my perception of him many times. Every time I toss those dice, I still end up with the same result. In my heart I know he is not into drugs of any kind. I truly believe he is not a murderer. As for all the women, I believe that John loves life and all it has to offer. He opened his heart and his home to many women and by all reports they were happy. He still fascinates and interests me. I can't wait to see what he comes up with next to be honest.
The crazy train has slowed down a little so now we can look back and reflect. Who is McAfee? It seems we will all have to wait for the official films and book to get the true answer to that question. While we wait, pull up a keyboard, pour yourself a glass of your favorite beverage and let's all share. Here on WIMAWIW, the lights are always on and your comments and opinions are always welcome.
©WEB~2013